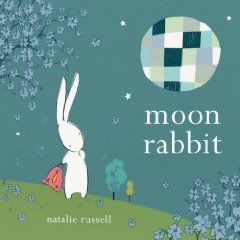 Rating: 3 pretty moons
"Little Rabbit in a city
she love it!
She goes sleeping in a park.
When she wake up and there was a rabbit 'just like me!'
Playing a guitar.
She danced and danced
Two rabbits, they so good friends.
One so happy...
One so sad...
(starts singing a song of the two rabbits, that is in a language only she understands)
'But Rabbit like me, he visit me again!'"
Izze: "I like when they are dancing"
I thought Izze would like this book a lot more, because she is practically obsessed with the moon, but this book really had nothing to do with the moon. It's a sweet story though.