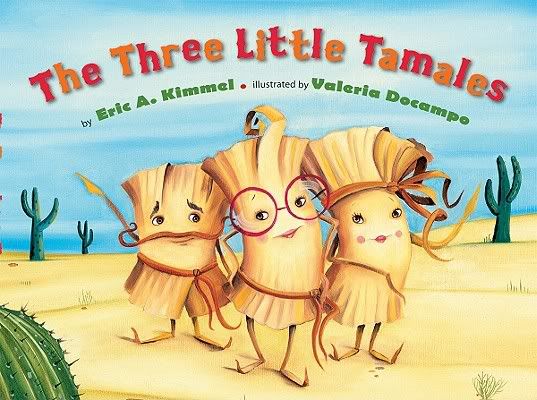 Rating: 3 Little Two-males!
Izze loves the story of The Three Little Pigs and this is a version with tamales.
There are three little "two-males"
A burrito comes
She means a tortilla
And they all run away!!
The one little "male" make a cactus house
A BIGBADWOOF COMES!
"LET ME IN! I HUFF AND PUFF!!"
He blows a house down! (gasp!)
They go to a cactus house.
He tried and tried to get in.
He have little toenails in the chimney.
He got in a pot!
Then he ran away.
And the three "two-males" have a party!
Izze likes that it's like the pigs but with "two-males."
I like the illustrations. They remind me of Frida by Jonah Winter. We like that style.